About Us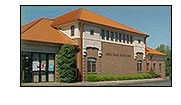 Muscle Shoals Electric Board is one of the Tennessee Valley Authority's 159 electricity distributors. Serving Muscle Shoals, Alabama and the Muscle Shoals TVA Reservation. We serve approximately 5579 residential and 1459 commercial customers and maintain 232 miles of line with one delivery point and an average load factor of 65%.
Our History
Since 1933

On May 18, 1933, President Roosevelt signed into law the Tennessee Valley Authority Act creating the Tennessee Valley Authority which took over the operation of electrical production facilities at Wilson Dam.
On July 30, 1933, Muscle Shoals Mayor George L. McBride submitted a formal resolution of the City of Muscle Shoals requesting electric service to the town of Muscle Shoals, Alabama.
Topics of Interest
Effective March 11, 2013
A $3.00 convenience fee will be added to each online payment.
Learn More About: